As nations across the world ramp up effort to rein in COVID-19, the Ortega-Murillo government have embraced a bizarre strategy. On the one hand, the government says  they are ready, with detection measures in place at all border crossings and health centers.  School children will be properly taught how to wash their hands.
On the other hand, the Ortega-Murillo government is actively promoting large gatherings, thus ignoring the recommendations of the WHO and other public health organizations.
On Saturday, March 14, the Ortega-Murillo government organized parades throughout the country, to show solidarity during the COVID-19 pandemic. Vice President and First Lady Rosario Murillo announced the event during her March 13 address. She dubbed it Love in the Times of COVID-19. Everyone should be walking in solidarity, she stated:
"We will be marching with the Strength of Faith and Hope, across the country, in permanent Prayer and in Solidarity with all Peoples, Families, Brothers and Sisters around the world, because the entire World is facing the COVID-19 Pandemic."
The move was guided by politics rather than by sound public health policy, but it is not surprising in a country where the ruling party, headed by Daniel Ortega and Rosario Murillo, has complete control of all state powers. There are no checks and balances to counteract executive branch decisions.
Now Nicaragua lags in the deployment of WHO preventive measures, when compared to other members of the Central American Integration System (SICA, by its Spanish Acronym). As of March 15, the country had declared a national alert, established health checkpoints at all borders, ports, and airports, and implemented a protocol to facilitate the detection of COVID-19 infections. However, Nicaragua has yet to establish preventive quarantines, suspend classes, restrict public events and large gatherings, ban incoming flights from countries where COVID-19 has been spreading, or deny entry to visitors arriving from those countries.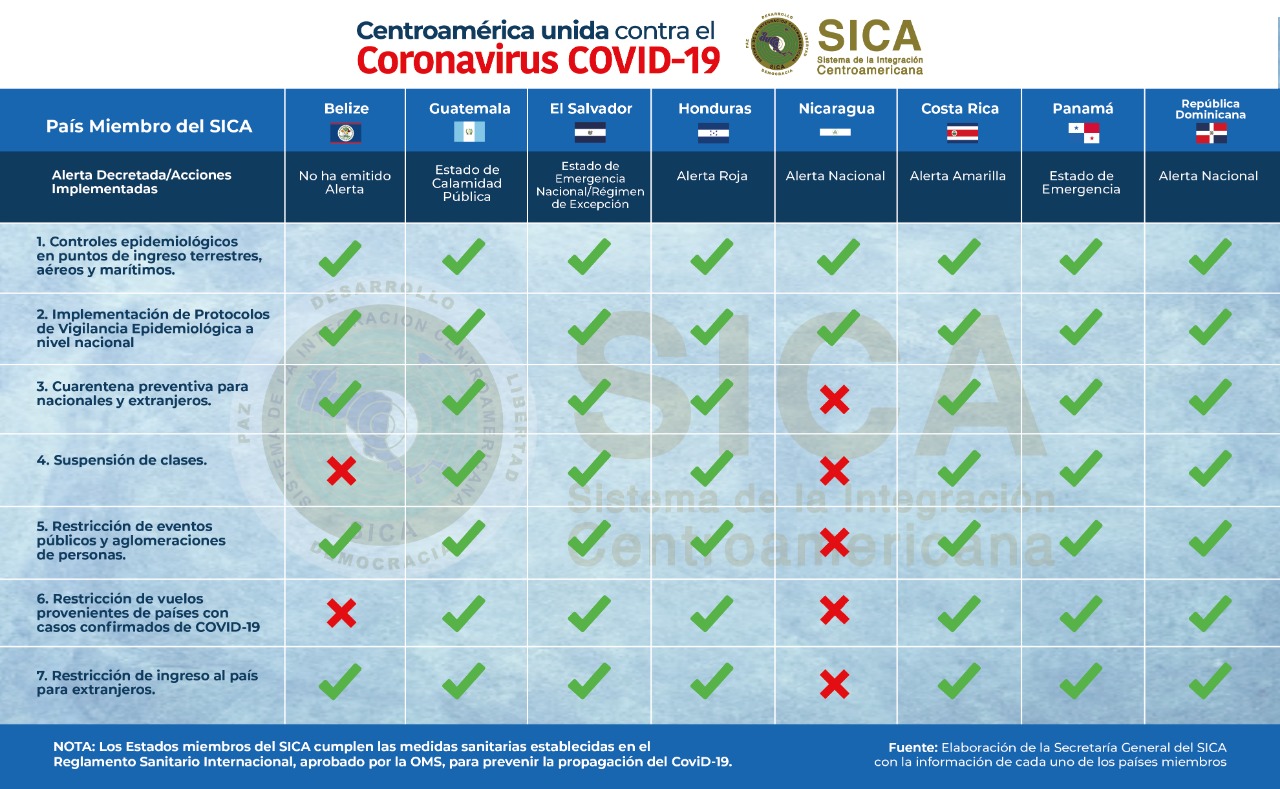 The apparent reason for this state of affairs is that Nicaragua has no reported cases of COVID-19. But neither does El Salvador, where President Nayib Bukele declared a nationwide quarantine, shut down schools, and closed borders. In contrast, the Nicaraguan Ministry of Health (MINSA, by its Spanish acronym) has pledged that there will be "no quarantine whatsoever established in Nicaragua."
Medidas+frente+al+coronavirus

In addition, MINSA also stated that any person coming into the country from countries where risk of transmission is high (e.g., Italy, China, Iran, Spain, etc.) will be allowed to move freely around the country, as long as they're not symptomatic.
Though the World Health Organization believes that the contracting COVID-19 from an asymptomatic person is unlikely, it has not entirely ruled out the possibility. Instead, the organization continues "assessing ongoing research on the period of transmission of COVID-19."
In spite of the unknowns, the march went on as planned.
Neither VP Murillo, nor Daniel Ortega attended the main event in Managua.
The Ortega-Murillo Propaganda Machine shared video and images from the march, showing a crowded field of people, walking shoulder to shoulder in Managua, as seen in this video posted by Canal 4 on the picture gallery below, compiling pictures shared by official government media.
According to Jorge Hurtado, France24's correspondent in Managua, there were also floats, costumes, music, and patient care reenactments.
Gobierno de #Nicaragua movilizó a sus simpatizantes en una caminata denominada "Amor en tiempos de #COVIDー19 " con coloridas carrozas, disfraces, música y hasta una "recreación" de pacientes y médicos. El gobierno afirma tener un plan para enfrentar la pandemia. @France24_es pic.twitter.com/1zEQXOJIHm

— Jorge Hurtado (@JorgeaHurtado) March 15, 2020
But that is not all the Ortega-Murillo government is planning. Rosario Murillo has also made it clear that life will go on normally. On Saturday, Nicaraguans would be able to enjoy leisure time, with over 2000 activities to choose from.
We have over 2,800 activities planned for today, throughout the country. These are religious activities, and sporting, recreational, cultural, gastronomic, and touristic events. There are More than 2,800 Activities going on throughout the Country, and Life, Comrades, the Good Life, the Life of the Nicaraguan people, that knows how to invoke God […], goes on!
That same day, the cruise ship Amadea docked in Corinto. Locals greeted tourists with a display of Nicaraguan folklore and goodie bags. The ship's previous stops included Mexico, Guatemala, and El Salvador.
On March 15, the Spanish Embassy issued a warning to its citizens: "If you are a tourist in Nicaragua, consider pushing your return trip forward. Connecting flights might get complicated due to COVID19. The local health services might not be on par with those in Spain."
Si te encuentras como turista en #Nicaragua, considera la posibilidad de adelantar tu viaje de regreso. Las conexiones podrían complicarse próximamente debido al #COVID19. Las prestaciones sanitarias locales podrían no ser asimilables a las de España.

— EmbEspNicaragua (@EmbEspNicaragua) March 15, 2020
Two days later, the United States embassy followed suit, with an advisory that asks "employees and family members who may be vulnerable due to COVID-19 to consider leaving Nicaragua." American tourists were also advised to change their travel plans "before the Nicaraguan health system becomes overwhelmed and flights become unavailable."
There are still no reported cases of COVID-19 in Nicaragua, but that might change, if it hasn't already.
Just don't forget to wash your hands.